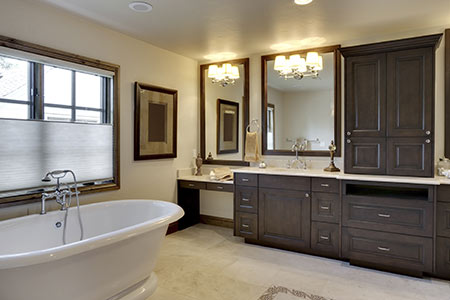 Homeowners are constantly looking for ways to improve their home and add some significant value to their property. At Phoenix Building Services, LLC, we are pleased to work with residential clients on a wide variety of project types. We encourage our clients to sit down with us, tell us exactly what they're looking for and collaborate with us throughout the design phase so they can ensure they're getting the remodel they've been dreaming of for years.
Here are just a few of the services we offer as a remodeler in Scottsdale, AZ:
Kitchen remodeling: Kitchens are perhaps the most commonly remodeled room in a house. During kitchen remodeling in Scottsdale, AZ, many people wish to open up walls to add more space, put in completely new cabinets and countertops, rework plumbing and electrical to change layouts for appliances and fixtures, change lighting, redo the flooring and much more. We're happy to work with you to give you the kitchen of your dreams.
Bathroom remodeling: If kitchens are not the most-remodeled room in people's homes, then bathrooms must be. Common tasks associated with bathroom remodels include reworking tubs and showers, putting in entirely new floors, building new, larger vanities and countertops, adding ventilation fans, re-tiling walls and more.
Home renovations: Does your home need a makeover? Our team is happy to go room-to-room to provide a much needed facelift. Whether you've got cracked walls, damaged hardwood floors or simply outdated styles, we're happy to renovate your home to your specifications.
Room additions: Need some more square footage in your home? Consider adding an entirely new room to your house. Our team is able to work with you to figure out where the best place is to put the room and what type of layout will work best.
Walls: We offer drywall and texture services as well as interior and exterior painting for your home.
Fine Finishes: Specialty finishes including Venetian plaster and modern masters are a great way to add an extra touch of elegance to your home.
Window Cleaning: We will make sure that your windows are spotless following your home remodel.
Home Entertainment: We will install audio video equipment in order to fully complete your home.
For more information about bathroom or kitchen remodels in Scottsdale, AZ, contact us today at 602-750-9549.